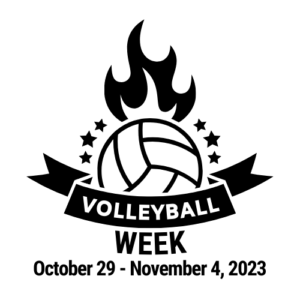 October 26, 2023 – Muncie, IN – The Muncie Sports Commission is excited to announce the inaugural Volleyball Week in Delaware County, culminating with the IHSAA State Volleyball Championships hosted at Worthen Arena on Saturday, November 4, 2023. Volleyball Week runs from October 29th through November 4th. It will include a week-long social media campaign of historical highlights, personal stories, interviews, and updates on the economic impact of events like the IHSAA Volleyball Championships and the annual tournaments hosted in Delaware County by Munciana Volleyball.
Additionally, The Muncie Sports Commission has partnered with Munciana Volleyball to offer a free volleyball clinic for 3rd-5th grade girls and boys at the Munciana facility in Yorktown on Thursday, November 2nd, from 6 pm-7 pm.  Space will be limited to the first 120 registrants.  More information about the clinic and Volleyball Week can be found at the Muncie Sports Commission website: munciesports.com/volleyball-week.
"The sport of volleyball is such an integral part of this community in the impact it has had on so many lives," said Jon Anderson, Executive Director of the Muncie Sports Commission. "Volleyball Week is a celebration of that impact and a recognition of the rich history of volleyball in Delaware County."
Ticket information and game times for the IHSAA State Volleyball Championships can be found via the 2023-24 event page at https://www.ihsaa.org.