April 4, 2022 – Muncie, IN
Muncie boys involved in the city's ICE League basketball season this year didn't just improve their ball-handling and shooting skills, they also improved their grade-point averages.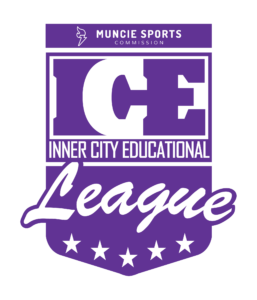 ICE stands for Inner City Educational League. Founded in 2015, the innovative league leverages a student's love of sports to promote academics and character development. Students must make good grades to be able to play, and the program combines basketball with weekly workshops that help the players prepare for college and careers.
Despite being involved for many years, this was the first year that the Muncie Sports Commission managed the league. Furthermore, it was the first complete season since the Covid-19 pandemic forced cancellations in 2020 and 2021, according to the commission's executive director, Jon Anderson.
"The ICE League program educates students on what it means to be a student-athlete and how your actions off the court impact your play on the court," Anderson said. "Our students bought into the idea, and, as a result, we saw GPA improvement across the board on all teams."
Project Leadership, Ivy Tech, Muncie Community Schools and Ball State Sports Link all played a big role by providing program participants with education elements through the four Career Connect Workshops. Their efforts had a significant impact on the student-athletes, Anderson said.
"Several students were ineligible when practice began but worked hard in the classroom and got their grades up so that they could play," Anderson said. "Six outstanding student-athletes also earned $500 college scholarships through ICE."
Thirty-six Muncie boys in Grades 7 and 8 competed on four teams representing four community centers: Buley Center, Ross Center, YMCA and the Boys & Girls Clubs of Muncie. The league required students to have a 2.0 GPA to join and a 2.5 GPA to play in games. Each team played eight regular-season games and two playoff games with the team from Ross Community Center emerging as the 2022 League Champions.
"We're excited to see how this program can grow, and we're already having conversations with our partners to strategize how the fundamental principles of ICE League can be experienced by more student-athletes. Stay tuned," Anderson said.
Follow Muncie ICE League on Facebook to learn more about the program.