MUNCIE, INDIANA — Muncie's two high schools, Muncie Central High School and Burris Laboratory School, have teamed up to host a one-day basketball invitational tournament on Saturday, Jan. 29 at the historic Muncie Fieldhouse. The inaugural City of Champions tournament, presented by Pizza King, will feature the boys' basketball teams from Muncie Central, Burris, South Bend Adams and Greenfield Central.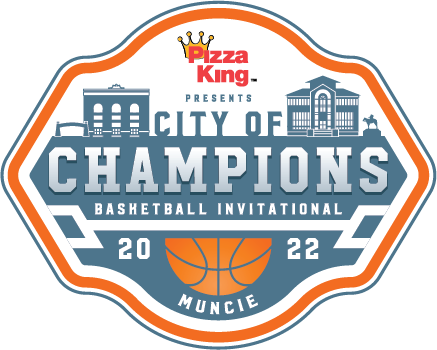 The tournament will kick off at 10 a.m. with a matchup between Muncie Central and Burris for the "City Championship." South Bend Adams and Greenfield Central will follow, with tip-off around noon. The tournament's consolation game will take place at 6 p.m., and the championship game will follow at about 8 p.m. The teams will be treated to lunch and a tour of Ball State's campus between sessions, as well as tickets to the Ball State vs. Western Michigan men's basketball game that afternoon.
Making the event more special is the cross-disciplinary student involvement. In November 2021, Muncie Sports Commission and Innovation Connector worked with Ball State University's Sports Link program, Muncie Central and Burris to start an after-school program to teach local high school students sports production skills. The students will provide pre-event and live coverage throughout the City of Champions tournament.
The high school students in the Sports Link after-school program, with assistance from Ball State students, will provide pre-event and live coverage throughout the City of Champions tournament—ranging from multi-camera productions, to radio, video streaming and social media.
"We are excited to facilitate an event that highlights Muncie's historical past and for the opportunity to play host to our visitors from across the state," said Jon Anderson, executive director of Muncie Sports Commission. "Partnerships like this highlight the importance of sports and its ability to impact lives long after the game is over."
For more information about the event and to view the livestreams, follow Muncie City of Champions on Facebook, Twitter, Instagram and YouTube.